Today I got a notification that it's my 8 year anniversary on Twitter and it made me think back a bit when it all started and how I've been using the platform. It all started in 2012…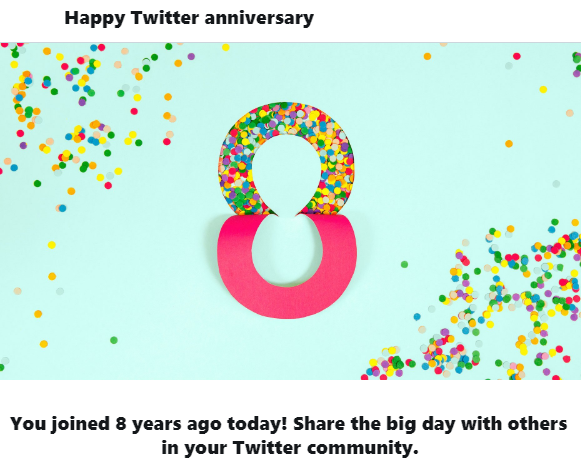 I don't particularly remember, why I created an account, most likely just trying out what everyone has been talking about, but I certainly didn't want to tweet their suggested first tweet, thus you get something different.
Initially I didn't really understand what to do with it, as you start out with nobody to follow. I didn't want Twitter to go through my contacts and I also didn't want to follow big companies or celebrities.
For a year I rarely used it, but when I starting playing the game Firefall and getting involved in their community, I started to follow a lot of players as well as developers on Twitter and it got me started to use the platform more regularly.
Later on there was also a thread on the SFML forum where we exchanged Twitter handles, which then gave me another step into the world of developers and indie game developers or enthusiasts.
From there it evolved quite naturally, following people who got retweeted into my feed and who talked about interesting stuff, e.g. C++, game development, beautiful art, etc.
Another great thing to find people to follow is looking out for #FollowFriday or short #FF, which are either a list of Twitter handles someone recommends to follow or a single handle with a small pitch for said person. That way you can find more people with similar interests and since they were recommended, they're probably not too annoying to follow.
Enter TweetDeck
In the early 2014 time while I was still studying at ETH, I saw someone in my class often use an odd looking application with different columns of tweets. It took me a while to figured out, that he using TweetDeck. That was a game changer and I'm surprised that a lot of people keep using the normal Twitter site.
With TweetDeck you are not fighting the algorithm (wasn't really an issue back then), you can see your feed, your notification, your DMs, your special keyword searches on one page, but not only that, you can have it for multiple accounts. During the Firefall times I was part of the RAWR army and setup a Twitter account for @RAWR4Firefall. Similarly since I got heavily involved in SFML, I created the @sfmldev account.
The way I use TweetDeck is to have the first column be my personal Twitter feed. Second column my personal Twitter notifications. Then a search column for anything mentioning SFML or Firefall. Fourth are the notifications for the SFML account. Fifth are all the DMs of all the different accounts. And depending on the screen size the @sfmlprojects notifications will also fit onto the screen. Beyond that there are some more notification areas, but I tend to rarely look at them.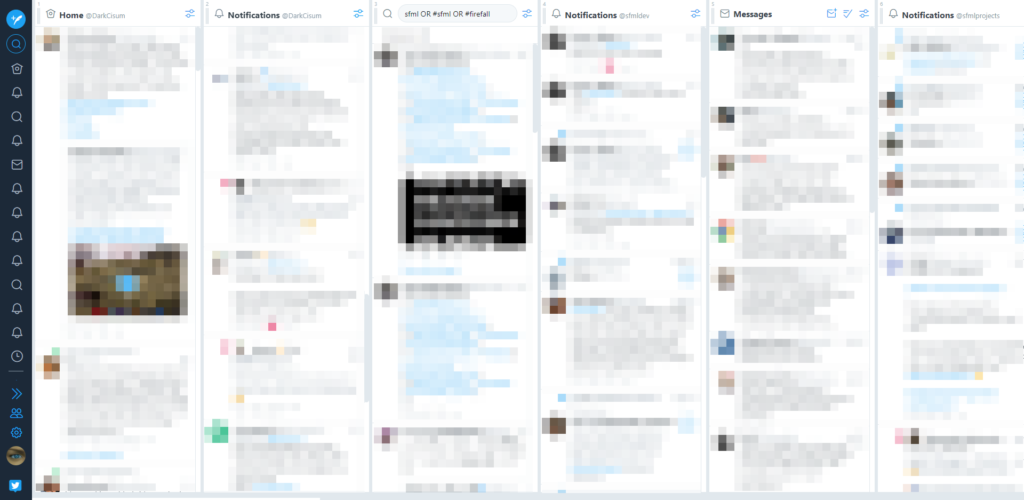 Toxic?
I often hear people complain about the toxicity of Twitter. Personally, I've not experienced this and I believe it may be because of two reasons.
Once you get hugely popular, you'll naturally draw the attention of the trolls.
By following certain people/topics or getting involved in certain topics, you get drawn into the spiral of negativity.
My personal tip for not getting sucked into the black hole is to unfollow or mute the people who tweet or retweet a lot of negative or annoying content. and under no circumstance get involved in these "discussions".
"The only winning move is not to play"

WarGames
For example, I'm really not that interested in politics, especially the one of the USA, as such, I'll unfollow everyone who keeps tweeting or retweeting about this daily.
But it's important to remember the opposite side of the coin: You're creating yourself an echo chamber this way. As long as you apply this cleansing only to people in relation to topics you're not interested in, it should be fine, but do keep the people in your list that may not have the same opinion on the topics you are interested in, otherwise you'll end up with a very one-sided view and miss out on a lot of great (technical) discussions!
Additionally, since Twitter these days is quite commonly used as source in mainstream media, it seems to give the false sense to people, that Twitter is just about politics and celebrities. It's certainly true that a large portion of the population seems to be using Twitter this way, but by applying the mentioned tips and actively searching for the interesting people, I can guarantee you, there are is also a different side to Twitter. Over time you end up as part of multiple larger communities. I see a lot of discussions about C++ and I see a lot of art and game development related tweets. I've talked to people with similar interests and made some friends. Additionally, if you do go to conferences, it makes things a lot easier, if you already know some of those people and have previously talked to them.
Twitter is Public
What I love about Twitter is that there's really no restriction on who you can talk to. You don't have to send friend requests or know someone who knows someone, but instead if you find someones Twitter handle, you can just @someone and they can decide whether to respond or not. This is in some way different to other platforms, because you're not tagging someone or replying in a comment to a post, but it's more like communicating via email, thus you see interactions between all sorts of people, that you rarely see on any other platform.
Additionally, you can't just tweet at people, the same applies to companies and there are many companies on Twitter these days. You don't have to search their semi-hidden contact form and be at the mercy of their ticketing system, but you can ask questions or point out issues then and now. Plus, since the communication is public, the stakes for the company become higher, which often results in faster reaction times and for some companies, you'll even get developers or other leads to directly reply. But use with care! Too often I fall into the trap of angry tweeting at a company. You generally achieve more by staying level-headed and trying to communicate as much useful information as possible. It's important to explain that something is frustrating, but it doesn't require angry voices.
Should I?
I believe, I have a nice mix of accounts I follow. Some I would call friends, some I hope to learn from, some are local authorities (e.g. police ticker or city news), some are YouTubers or podcasters I regularly watch or listen to, some are accounts for games or (open source) products I want to stay up-to-date with, and some have probably not tweeted in multiple years.
For me Twitter is (currently) the best platform to interact with random people or companies without having to grab an email client and it's a great platform to follow interesting (technical) discussions, see awesome art and game development updates. If you can find your communities and stay away from the topics that will just drag you down, I can more than recommend it, but as usual YMMV.