A bit delayed but here we go!
New Games
This section only lists games that I was actually able to play for a bit.
Squid Blaster
This game feels a bit like a mix of Space Invaders and a classic side-scroller. You are a turtle and are fighting against the evil squids, eat fish to be able to fire more fire balls and try to stay alive as long as possible. It's quite fun and due to the low population of fish can be quite tricky to stay alive long enough. The movement of the enemies is however very predictable, it would be nice if there was a bit more variation in the mix. And it would be really cool if the background was a bit dynamic.
Check it out on the forum and take a look at the source code on GitHub.
Amsale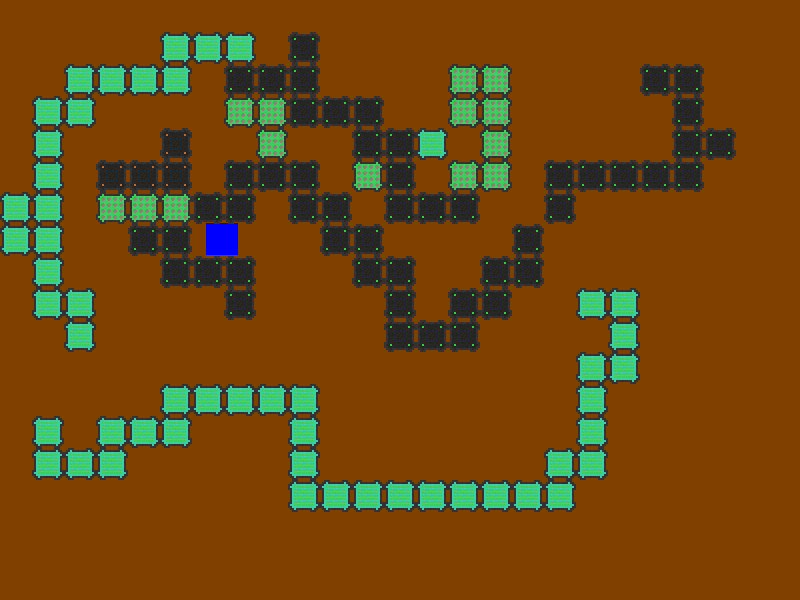 At the momement there isn't much to see, since Amsel is still in development, but so far you can place tiles and move the blue square around. The goal of the game will be that you manage the colony of the alien planet Zeus. Besides the visual part there is actually already more happening in the background regarding resource collection and management. It will definitely be interesting to see how far this project goes.
You can find more information and downloads on the forum.
Game Showcases
Some games don't have playable versions yet, but feature some interesting videos or screenshots.
Top-Down 2D Game
The game currently has no real title thus the generic "Top-Down 2D Game". It reminds me a lot of the older Grand Theft Auto (GTA) games and I assume is also the creators inspiration – I'm not certain, but I think he even does use some GTA sprites. The lighting looks great and the AI's behavior seems quite intelligent already. I'm looking forward to some more progress!
Head to the forum if you want to participate in a discussion and make sure to check out the author's YouTube channel.
Chip8
This is not exactly a game, but an interpreter for CHIP-8/SuperCHIP applications, under which also many games fall. It also uses SFGUI for the user interface.
Check out the forum post and find a whole lot more information about it on the author's blog.
K Station
And finally my most likely favorite showcase of the month: K Station. It's an adventure game with pixel art graphics, lots of humor and set in space. So far there hasn't been a whole lot more information released about the game. I'll most certainly keep a close eye on this!
Make sure to check out the forum post, the official website and get the latest updates on their Twitter account.
Faunus Fields
Faunus Fields is an RPG game that evolves around collecting resources and building up your defenses against the wild life and other enemies which try to threaten your crops. While the Kickstarter campaign failed, you can still vote for it on Steam Greenlight. Will be interesting to see how the game evolves.
You can find the discussion on the forum and follow the development on Twitter.
Honorable Mentions
Chesster

Even though their Kickstarter campaign (I've mentioned previously) failed, they have managed to get finish the game and released it on Steam as well as an iOS app. I am not sure if they are still using SFML or if the moved on completely, but it's still nice to see that SFML certainly helped them to get the project started.
Zeran's Folly
This game is already in development for nearly two years or at least that's how old the first forum post is. So far it has in my opinion not gotten enough attention. It's an awesome looking game and the gameplay so far is really fun! The reason I mention it, is because it got a new build in March.
Take a look at the full forum post and check out the author's website.